Local Advocacy
The JCRC of Greater Washington is the chief government advocate and community relations resource for our Jewish community. We partner with local and state organizations in Maryland, Virginia, and Washington, DC to reach out to government officials to advance the legislative agenda of our community in the Greater Washington area. Our Israel Action Center educates and trains community members to become confident, informed advocates for a secure, democratic Israel and a strong U.S.-Israel relationship.
Community Building
The JCRC works on a daily basis to protect and serve the most vulnerable among us, foster greater mutual respect, and strengthen the fabric of our local community. We serve as the Jewish community's central voice for relationship building between Jews and other faith, ethnic, and minority groups in the Greater Washington, DC region. In times of celebration and times of need we work together to build a stronger more vibrant community where all people of all backgrounds, faiths, and identities feel valued and safe.
Education
The JCRC extensive education outreach efforts promote safe, hate-free learning environments and combat school-based antisemitism and other forms of bias. Our approach reaches all of the stakeholders in our local school systems: students, parents, teachers and other school staff, administrators, and superintendents.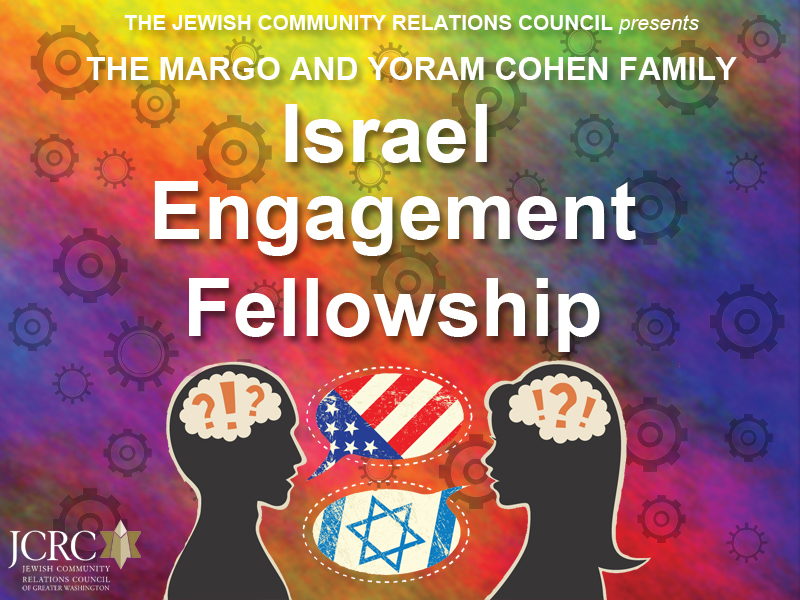 ---
Israel Engagement Fellowship
10th - 12th graders - apply now to be a part of the 12th cohort of the Israel Engagement Fellowship! Join us in January to explore the trends on college campus, how Israel fits into broader conversations, and graduate with the knowledge, experience, and confidence to engage with and advocate for Israel in a meaningful way.
JCRC By The Numbers
$8,000,000 government funding for community security & social services
---
5,000 students and teachers met with a holocaust survivor
---
700 students trained to advocate for Israel