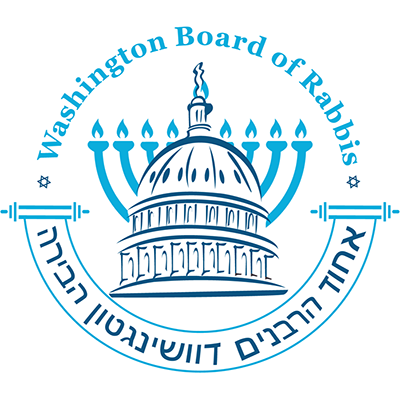 The Washington Board of Rabbis (WBR) promotes Rabbinic growth, development and chevrashaft through ongoing opportunities for study, sharing, and connection. The WBR promotes collaborative programming and open communication throughout the rabbinic community.
The WBR represents most of the over 150 rabbis in the Greater Washington DC region. Our members include educators, chaplains, non-profit professionals, pulpit clergy, life cycle officiants, and online bloggers. Our rabbis identify as (in alphabetical order) Conservative, Humanist, Modern Orthodox, Open Orthodox, Orthodox, Reconstructing, Reform, and Renewal.
WBR is a fiscally sponsored project of the Jewish Community Relations Council of Greater Washington (JCRC). The views expressed by WBR are its own and do not necessarily reflect the views of JCRC or any other organization.
Leadership Team
The WBR team consists of volunteers who are invested in the continuing education, fellowship, and spiritual activism of the Greater Washington rabbinic community.
Fresh ideas and suggestions for programming are always encouraged, and each year, new team leaders are welcomed.
Please feel free to reach out to any of the officers with your questions or comments.
At Large Members
Maharat Ruth Friedman
Rabbah Arlene Berger
Rabbi Rachel Hersh
Rabbi Gilah Langner
Rabbi Abbi Sharofsky
Rabbi Neil Tow
Rabbi Fabian Werbin
Rabbi Michael Werbow
Past Presidents
Rabbi A. Nathan Abramowitz
Rabbi Mendel Abrams
Rabbi Marvin Bash
Rabbi Joseph Brandriss
Rabbi Fred Scherlinder Dobb
Rabbi Sheldon Elster
Rabbi Joshua Haberman
Rabbi Martin Halpern
Rabbi Gregory Harris
Rabbi Doug Heifetz
Rabbi David Kaye
Rabbi Jonah Layman
Rabbi Eugene Lipman
Rabbi Jack A. Luxemburg
Rabbi Jack Moline
Rabbi Tzvi Porath
Rabbi Stanley Rabinowitz
Rabbi Fred N. Reiner
Rabbi Jonathan Schnitzer
Rabbi Samuel Scolnic
Rabbi Susan Shankman
Rabbi Matthew Simon
Rabbi Warren Stone
Rabbi Sam Volkman
Rabbi Stuart Weinblatt
Rabbi Lewis A. Weintraub
Rabbi Baht Yameen Weiss
Rabbi Jeffery Wohlberg